Welcome to E-Dev
E-Dev is a Professional Development Portal for Development Professionals
Our Learn Center focuses on teaching real time field based learning tools that helps development professionals perform their optimal in their jobs, studies, consultancies and
R
EGISTER FOR CURRENT COURSE "ICT Based Monitoring, Impact Evaluation and Research"
Individual Approach to Education!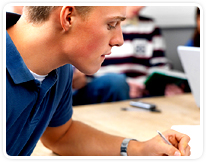 Despite being an online course. Our students get individual mentorship on the courses.
Courses in the Learn Centre are through an interactive E-Classroom where students learn from experts actively involved in development practice both at field and policy level. Our certificate based courses help development professionals excel in their jobs by having a cutting edge advantage from wide experience, knowledge and use of latest technology for Development practice, research, and Project Management
Upcoming cOURSES
Latest News
15
SEP, 2012
E-DEV Portal Launched by The Development CAFE......
25
SEP, 2012
M& E with a difference course begins...